More than you want to know about me-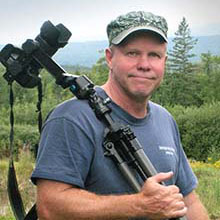 For many years I worked throughout Maine as a freelance photographer primarily for the Associated Press and the Maine Times. My photos appeared in newspapers and magazines around the world including Newsweek, the New York Times, USA Today, and National Geographic Magazine. I enjoyed capturing bits of history on film and sharing it with others through the news media.
I currently work with digital cameras to capture landscape views of Maine and Vieques, Puerto Rico. I also create images with an Ipad, Apple pencil, and a digital painting software. Matted and framed prints plus gallery wrapped prints on canvas are available for purchase on this web site and and at selected art shows and galleries.
I hope my photography and art will rekindle your memories of a special place or subject and help you share it's beauty with others.