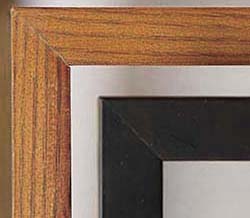 Prints are archival inkjet on acid-free mat surface paper. They are estimated to outlast chromogenic (darkroom-chemical prints) under normal indoor display conditions.
Notecards have titles printed below the image on the outside and are blank on the inside. They include a #11 white envelope which only needs a regular 1st class stamp for mailing. They are sold in packs of 5 of the same image.
The larger prints (larger than the notecards) are signed and titled by the photographer just below the image. The "(c)Scott Perry" that appears in the pictures on this web site will not appear in the prints you receive.
Mats are white conservation grade. Backing is 3/16″ foam board. My prints and mats require custom size frames.
I offer hardwood frames that have a simple flat-faced profile. You have a choice of two colors: satin black and a brown stained hardwood. The small and medium sized frames (5″x11″,8″x20″, 8″x32″ and 12″x20″) are 3/4″ wide and have picture wire for hanging. The larger frames (12″x36″, 12″x48″ and 18″x48″) are 1 1/8″ wide and have picture wire for hanging. Glazing is regular picture glass.
Print and frame sizes vary with each image. When you click on each image in the galleries, you will find the sizes available for that particular image and the prices. Orders usually take less than a week to complete.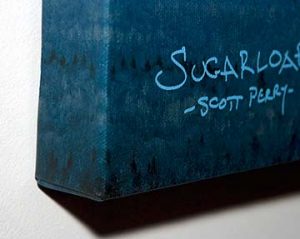 I also offer my photos and digital paintings printed on canvas using pigmented inks. After printing the image, I coat these canvas prints with a specially formulated acrylic varnish to protect them from abrasion, moisture and image fading. I stretch the canvases over a wood frame with the image wrapped around the edges. This is called a gallery wrap. The prints are wrapped around 1 1/8″ deep wood frames. It gives the print a great, finished look without having to add an external frame. They come with wire on the back so they are ready to hang on your wall.
 Canvas print edge detail